For a number of years the parish council have explored ways of building a new village hall for Wouldham. This has proven to be a very complex and frustrating process as we have looked into various means of funding that have all proved to be unachievable. Various grants were applied for only to be rejected or run out of submission time before various schemes ended, an attempt to raise funds via the Parish Precept was rejected in a village vote.
The existing hall is in a bad state of repair, the outside toilets are accessed via multiple steps and sadly a time has come whereby the Pre-school might have to close because OFSTED say the hall is becoming increasingly unsuitable due mainly to the condition of the toilets and lack of disabled facilities, dangers of the road etc. To lose the pre-school would be a tremendous loss to the village especially as the new facility in Peters Village has been put on hold. Without their income the village hall might have to close altogether as it would not be financially viable to keep it open therefore other users like Zumba and karate would also suffer.
Everyone concerned agrees the hall has reached the end of its useful life and it is felt by the Village Hall Committee and Wouldham Parish Council that the only way a new hall can be built away from the traffic is by selling the existing hall to finance a new hall to be built on the old social club site within the recreation ground car park, initially it was hoped the new hall could go on the recreation ground however a "no buildings" covenant placed on it by Trenport Investments Ltd has made this impossible as they will not vary it . With limited funds available it is hoped that this building will be the start of a much larger project with a brick skin and pitched roof added as soon as funds become available, it has been found that whilst there is not funding for Capital asset builds (a new hall in its entirety) there are many smaller grants available such as for insulation and making it energy efficient.
The main hall is larger than our old hall giving users more room for activities, it has a separate storage area and toilets that can be sealed off from the rest of the overall building making it OFSTED friendly when used by the preschool. It has an office for use by a Parish Council clerk and a meeting room , both can share a separate toilet facility as can users of the recreation ground via an external door. It has a large fully fitted kitchen that serves the main hall and the meeting room, doors at either end assure security when used by either the hall or the meeting room. The building has full disabled toilet facilities.




The footprint of the New Village Hall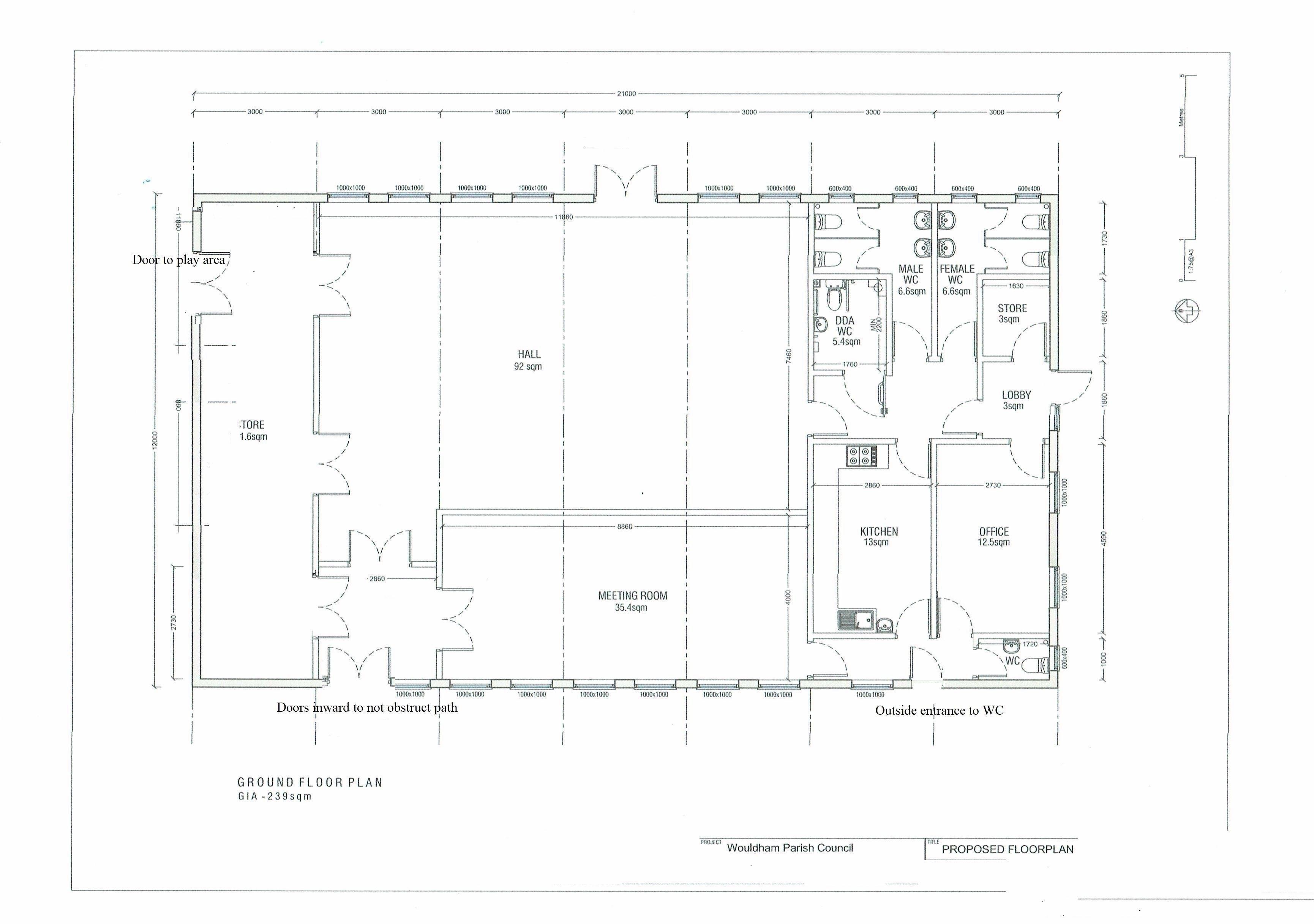 New Hall seen from the east elevation showing on the right
the fenced outside area

The following are examples from https://phoenixmodularconstructionltd.com/ who we are delighted to say are working alongside the Village Hall Management Committee